Birth Month Flowers from January to December
Flowers are the perfect way to show someone you care on their birthday, and did you know that each month has its own special meaning? Just like with birthstones, each birth month has a different corresponding flower. 
By choosing the special flower for someone's birth month when sending them a birthday floral gift, you're letting them know just how much thought you put into their present. Keep reading this post to learn more about the significance and meaning of each birth month flower from January to December.



January Birth Flowers - Carnations
The lovely carnation; a fitting flower for the month of January. Carnations show beauty, gratefulness and admiration; traits we all love to see in others but often forget to show ourselves. A little-known fact about these flowers is that their colors can change their meaning; pink being affectionate, red exclaiming "I love you", white being purity and yellow being an unfortunate loss or disappointment. Next time you buy flowers for someone special or even just because make sure to keep these hidden meanings in mind!
February Birth Flowers - Irises
If you're looking for the perfect gift for a February birthday, look no further than irises! These stunning flowers are available in purple, white, and yellow varieties—so you can either stick with one color or go for a mixed bouquet! And what's more, irises are said to symbolize faith, hope, and wisdom—three values that are sure to be appreciated by both the gift giver and the recipient.
March Birth Flowers - Daffodils
Everybody loves daffodils and their bright color. If you have a March birthday, consider yourself lucky because the daffodil is your flower! In the southern hemisphere, however, the daffodil does not appear at the beginning of spring. Instead, people there may have to choose a different flower that signifies joy, such as gerberas or rainbow roses. People living in the northern hemisphere see daffodils in early spring, which symbolizes new beginnings.
April Birth Flowers - Daisies

April birthdays are even more special when you receive gerbera daisies! Not only are these flowers beautiful, but they also symbolize youth, peace, and happiness. Did you know that they're also connected with secrets? The sender is letting you know that they can be trusted with your deepest secrets.

The lily of the valley is a pure and elegant flower that has been popular for centuries. It has a delicate sweet fragrance and its white petals make it a symbol of purity. It is traditionally given as a gift in May to symbolize how much the recipient means to the giver.
June Birth Flowers - Roses

The rose is not only the flower for Valentine's Day, but also the birth flower for the month of June. The color of the rose is significant, as red roses are seen as a symbol of passion, pink for motherly love, yellow for friendship, and white for an apology. Learn more about the meaning of rose colors and how to give roses as gifts with intention.
July Birth Flowers - Delphiniums
The month of July is associated with delphiniums or water lilies. These flowers are known for their cheerful colours and positive, often passionate message. If you want to send a first love delphiniums, they should be purple. When you want to let someone know you are open to new experiences, giving them delphiniums is a great way to do so.
August Birth Flowers - Gladioli

A gift that celebrates strength and honors the recipient, gladioli are perfect for so many occasions. With stunning blooms in an array of colors, these flowers are associated with breaking through barriers - perfect for those with a big heart. Show your loved ones how much you care with a luxury gladiolus arrangement today.



September Birth Flowers - Asters

The aster is the September birth flower and it represents love, elegance and patience. Back in ancient times, people believed that asters would protect them from evil spirits. So, if you receive aster flowers from somebody, know that they support and care for you. If you want to thank someone for their patience and kindness, gifting them aster flowers is a wonderful way to do so!
October Birth Flowers - Marigold

A marigold's beautiful deep golden yellow color has the ability to brighten any day. Did you know that marigolds are the October flower? Not only that, but they also signify warm love and can be representative of someone working hard to win your affection. They're also great for keeping nasty pests away in gardens! So don't underestimate this common little flower--there's much more to them than meets the eye.

Chrysanthemums (sometimes called chrysanths) have a long-standing association with Mother's Day, but did you know they're also the birth flower for November? These flowers represent loyalty, devotion & lasting friendship - making them the perfect gift for any occasion! In China, it's also believed that adding a chrysanthemum petal to your wine glass will bring you longevity & prevent grey hair.



December Birth Flowers - Poinsettias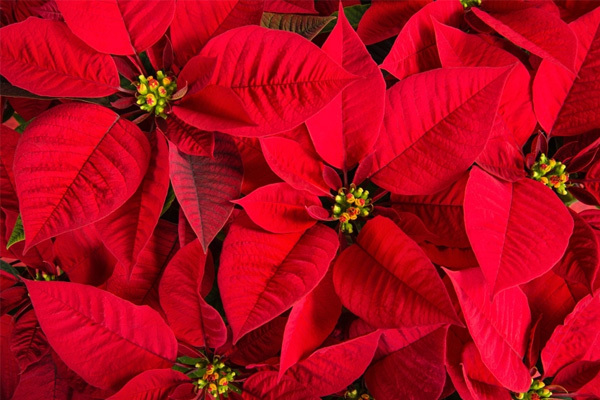 The meaning behind the birth month flower, poinsettias, dates back to a Mexican legend. A young girl who was poor and could not afford a Christmas gift prayed over a bouquet of weeds she found. When she placed them by baby Jesus in the manger, they turned into brilliant red poinsettias. To this day, they represent good cheer during the holidays.