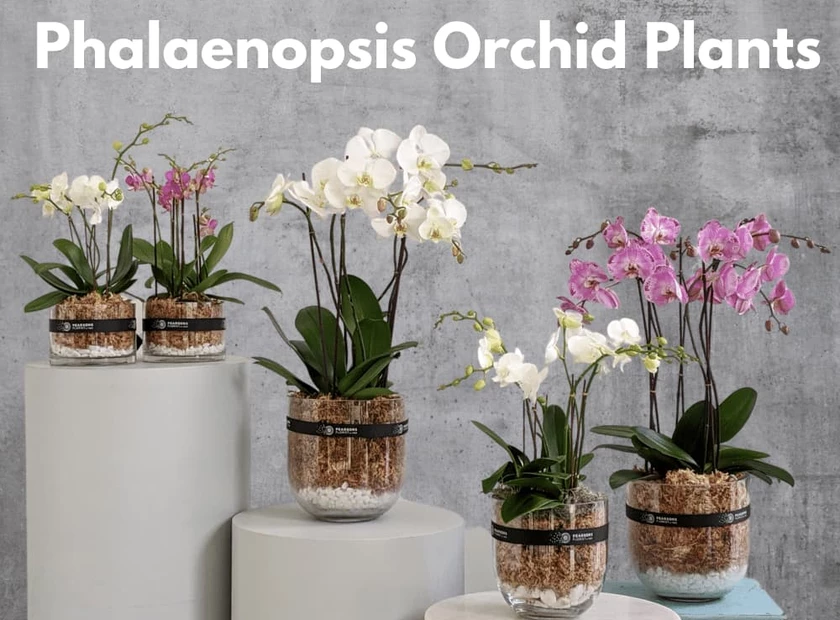 Phalaenopsis Orchid Plants
Phalaenopsis orchids are a beautiful flowering potted plant that we have seen grow enormously in popularity over the last few years. We love their graceful arching stems and clean, crisp colours add the way they add an exotic elegance to any room. It's no surprise then that many interior designers feature this beautiful plant in so many contemporary room designs.
Our Pearsons Florist designers style these captivating phalaenopsis orchid plants into modern glass bowls that make truly stunning floral statements. The end result is an exquisite yet unexpected gift appropriate for any special occasion. Best of all, it is a gift that keeps on giving. If you look after your orchid correctly, they will last for years and years and bloom spectacularly almost all year round.


Looking After Your Phalaenopsis Orchid Plant


Phalaenopsis orchids are not hard to care for, but they do require a bit of love and care. To ensure your centrepiece remains healthy you need to:


Choose The Right Location - Place the orchid in a bright warm place out of direct sunlight and away from cold draughts. A window sill will work well or any warm, sunny spot in your home.
Keep Moist Not Saturated - Water your orchid every 7-10 days to keep the soil moist but do not saturate the pot with water.
Add A Bit Of Fertiliser - Add a little bit of orchid fertiliser every 2 weeks or according to the instructions on the packet. Remember less is more here.
Repot Now And Then - Once a year when the orchid is not blooming, ease it gently out of the pot and repot it with some fresh orchid soil mix. You can place it back into its bowl if you like.
Remove Any Dust - Like any stunning centrepiece in your home, orchid leaves will get dusty from time to time. Gently remove any dust from the leaves by wiping them softly with a damp cloth.


With a little love and care we are sure your phalaenopsis orchids will continue to make a stunning statement in your home for years to come.


Phalaenopsis Orchid Plants make a great gift for almost any occasion.