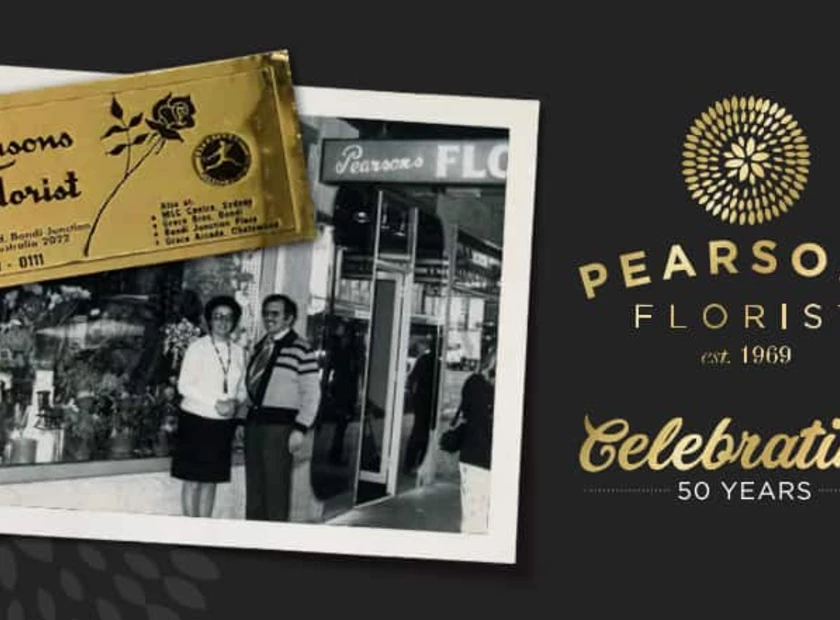 Pearsons 50th Anniversary
Since 1969 Pearsons have been delighting the flower lovers of Sydney! For 50 years in our shops, our school and online we have loved sharing our flowers, knowledge, experience and passion for all things floral with you, our very special customers. 



In 1969 when Clare and Fred Pollak bought a small flower shop in Bondi Junction they had no idea that it would one day turn into a Sydney floral empire!



In 2019 we are proud to say that our FAMILY FLORAL EMPIRE encompasses:



6 beautiful stores in key locations across Sydney
Our multi-award winning Pearsons School of Floristry
60 fabulous staff members including our wonderful floral designers, floristry trainers, flower buyers, dedicated team of drivers and super support staff
Our own fleet of 12 custom designed floral delivery vans
Dedicated Design Centre and Head Office in Stanmore
3 websites
Proudly owned and operated by the same family for 3 generations
AND, over 780,000 deliveres in the last 50 years!!!!
To CELEBRATE we are thrilled to be sharing a host of special offers throughout September:

Order flowers online or enter in-store and you go into the draw for a chance to WIN one of 50 beautiful prizes in our Anniversary Competition.



Flowers for a Year 
Our Amber & Gold Arrangement
Pearsons School of Floristry Gift Vouchers
Pearsons Gorgeous Green and Gold Plant pack. 
Flowers from us to you in-store



Every customer that spends over $50 in-store will receive a FREE GIFT with PURCHASE. (Valid September 1 to 14).
Bring a Friend for FREE to a Pearsons Workshop



Enrol in any 2019 Full Day or Flower Club Workshop in September and you can bring a friend for free. 
In addition to these beautiful floral gifts our designers have created a beautiful range of Golden Anniversary Arrangements to order throughout September plus fabulous in-store displays!