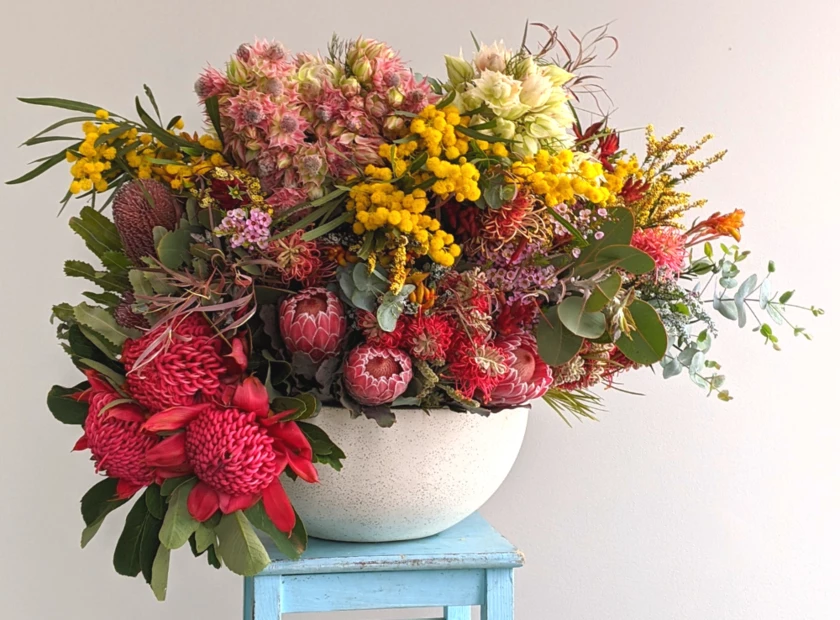 Native & Wild Flowers
NATIVE and WILD Flowers really pack a punch with their dynamic textures, rustic colours and versatility. If you need long lasting flowers that make a statement you won't do better than choosing these confident and powerful blooms.
ORDER NATIVE and WILDFLOWERS NOW
Not every flower that we use in this style is native to Australia. We love to incorporate flowers from other countries that work within this genre and grow well in our country and climate. South African native flowers like protea and leucodendrons really fit the bill.



So what flowers do we choose when making a native style arrangement?



WARATAH:
The name Waratah means 'red flowering tree' and was named by the Eora Aboriginal people of the Sydney area. It is the NSW state emblem The most common colour of a Waratah is a vibrant red colour, but you can also find pink and white varieties. The Waratah makes for a great cut flower which is striking in any arrangement as well as long lasting.
KANGAROO PAW:
Endemic to the south-west of WA, this plant really packs a punch with long stems and unique claw-like tubular flowers which are coated in dense hairs that resemble the paw of a kangaroo. Incorporating Kangaroo Paw in your floral arrangement sends a message of supremacy. Think about it this way, you wouldn't want to mess with a red kangaroo!
PROTEA:
Native to South Africa they are grown locally and are perfect for Australian conditions. A florist favourite for their versatile shapes and colours and for their fantastic longevity. All shades of red, burgundy and pink, rustic browns and green and arctic white are available.They mix well with other flowers but look magnificent on their own - 3 king proteas in a vase is elegant and stylish! A cool florist tip is to mix proteas with seasonal flowers like roses or peonies for that juxtaposition of soft and strong that is so on-trend. The genus Protea was named in 1735 by Carl Linnaeus after the Greek god Proteus, who could change his form at will, because they have such a wide variety of forms. They are related to the grevillea family and ancient fossil evidence suggests that they grew 70 - 80 million years ago.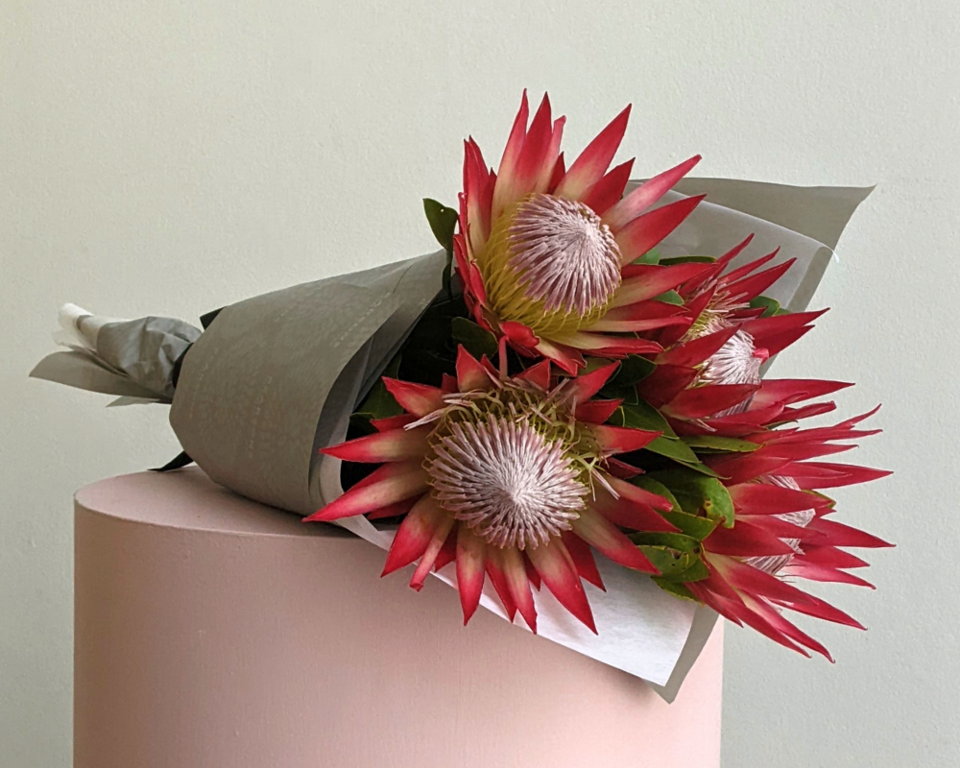 WATTLE: The golden wattle, botanical name Acacia pycnantha is a hardy shrub of the family Fabaceae and it is native to southeastern Australia. It is the floral emblem of Australia. Read more... Traditionally the golden wattle blooms in spring adorning our local landscape with bursts of bright sunshine. However as it has been cultivated for use by florists it is now available for us to add to our designs from early July through to late September.



LEUCADENDRON: Leucadendrons are stunningly colorful plants native to South Africa but capable of growing around the world. They are known for their low maintenance tendencies and bright colors, making them a great choice for hot weather designs. Useful for their great range of colours from silvery grey to fiery sunset red, leucadendrons are also available in a wide variety of sizes making them useful in small or very grand arrangements.



WAX FLOWERS: Chamelaucium, also known as waxflower, is a genus of shrubs endemic to south western Western Australia. They belong to the myrtle family Myrtaceae and have flowers similar to those of the tea-trees (Leptospermum). The most well-known species is the Geraldton Wax, Chamelaucium uncinatum, which is cultivated widely for its large attractive flowers.



The list of beautiful native and wild flowers avaialable to florists is almost endless and changes with the seasons but our best and most beautiful varieties flower in the spring time from September through to November - making it one of the florists favourite times of the year!!!