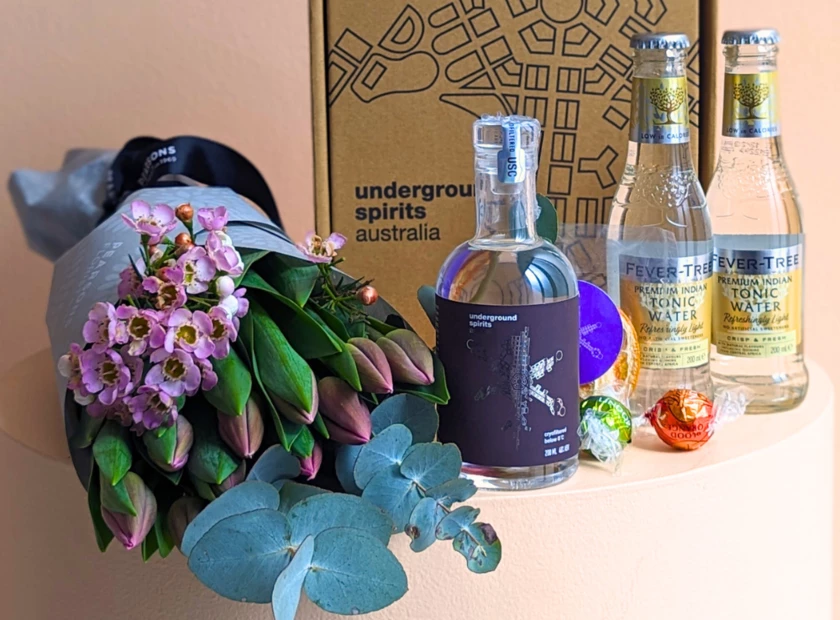 Gifts Inspired by Floriade Month
September 14, 2023
Pearsons Florist has partnered with multi-award-winning gin and vodka distiller Underground Spirits Australia to celebrate Floriade Month (16 September–15 October) with a range of luxurious hampers this spring. Underground Spirits Australia is renowned in Canberra for its premium vodka and craft gins made from a high-quality array of botanicals and the pure spring water of the pristine Snowy Mountains. Staying true to its mission to celebrate Australian produce and innovation, Underground Spirits is focused on meaningful partnerships with other homegrown brands. 

Underground Spirits Australia CEO Claudia Roughley says, "We are incredibly excited to be partnering with Pearsons for the Floriade month, as our businesses have a shared love of botanicals and innovation. At a time of renewal within our gardens, there's no better way to appreciate the wonders of nature and innovation that power the heart notes of our spirits than with a Pearsons hamper. Thanks to our Floriade-inspired collaboration, you can now enjoy the expertly blended botanicals of an Underground Spirits gin and tonic as you admire Pearsons' beautiful bouquets and pot plants this spring," adds Claudia Roughley. 


Pearsons CEO Avi Pollak says, "We are always looking for fresh ways to bring feelings to life through flowers and plants, and springtime offers a symphony of colour and splendour. We wanted to celebrate this time of rejuvenation with a new partnership with Underground Spirits, who share our love of flowers, creativity and quality. We feel the Floriade-inspired hampers uniquely capture the joy that is spring."

The new Underground Spirits and Pearsons Floriade-inspired hampers include:
Botanical Bunch Hamper: Underground Spirits Gin & Tonic Gift Box with 1 x 200ml bottle of signature gin, 2 x Fevertree tonics, a pack of dehydrated garnish and a Pearsons flower posy.

Spring into Underground Hamper: Underground Spirits Gin & Tonic Duo mini packs with 2 x 50ml mini bottles of Underground Spirits gin and 2 x Fevertree tonics, a pack of dehydrated garnish and a seasonal pretty plant.

Let it Bloom Orchid Hamper: Underground Spirits Gin 700ml with a fragrant Wild Sage Bitter Orange Candle 140gm and a seasonal mini Phalaenopsis orchid plant in a stylish ceramic pot.  

"As a Canberra-based company we hope that partnering with the third-generation Sydney-based flower expert that is Pearsons Florist will help Sydneysiders discover Underground Spirits Australia this spring," adds Claudia Roughley. Underground Spirits Australia is a supporter at this year's Floriade and will be hosting an enchanting Gin Garden in the heart of the festival's floral wonderland.